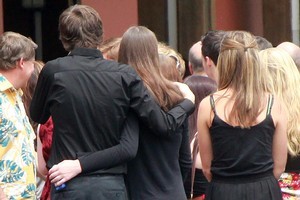 Christie Marceau, the teenager killed in a violent attack in her North Shore home this week, was to have flown to Adelaide on Friday to begin a new life.
Mourners filled a chapel in Albany yesterday to farewell the 18-year-old who died last Monday.
A 19-year-old man has been charged with her murder.
Several hundred people, including family, friends, neighbours, police and detectives working on her homicide investigation, AUT classmates and pupils from her old school, ACG Parnell, attended the emotional service.
Personnel from the New Zealand Air Force, where Christie's father, Brian, previously worked, formed a guard of honour outside the chapel.
Mourners heard that Christie and her mother, Tracey, were to have flown to Adelaide this weekend to join Brian Marceau, an avionics technician, who had recently started working there.
Christie was planning to attend university in Adelaide.
In the non-religious service she was described as vivacious, outgoing, friendly and very fond of animals. Five of her close friends spoke.
Christie's parents, sister Heather and boyfriend Joseph Burton-Burn had asked for privacy following her death.
In a joint statement they said it had been an emotional time for them and they needed space to grieve.
They said Christie was "an amazing young woman", lost too soon.
Marceau's alleged killer, Akshay Anand Chand, has been charged with murder and was remanded in custody after a brief appearance in the North Shore District Court last week.
Police said Christie's parents and sister were "absolutely traumatised" by the killing.
The Marceaus paid tribute to her in a public notice.
"A bright light taken too early from us," they said.
"Sleep well my darling, your beauty and vivaciousness will be sorely missed and never forgotten."