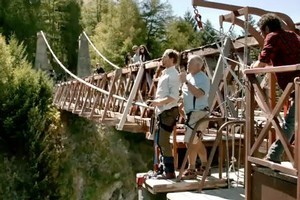 The deepening world financial crisis is attracting more top international brands to New Zealand to film big-budget TV commercials.
Overseas ad-makers splashed out $165 million shooting promos - $143 million in the Auckland region alone - last year. They include household names such as Japanese carmaker Honda and United States energy giant GE.
"The economics downturn is causing more of these big firms to spend more on advertising and that is good news for us," said Film New Zealand chairman Julian Grimmond. "There's a lot of evidence to indicate this year is shaping up even better than last and we are expecting a very busy summer."
The spin-offs extend beyond hard cash being spent here, Grimmond said.
A $2 million ad for Fujifilm shot in Queenstown has been translated into 20 languages and screens in Europe, the United Arab Emirates, Mexico, Brazil and Asia.
"It can be cheaper to film in somewhere like South America but in Argentina you have to drive for about 15 hours for a dramatic change of scenery, compared to about an hour in New Zealand," Grimmond said, and, despite a high dollar, New Zealand was competitively priced compared with the other countries.
"Here we don't have fringe costs such as various local taxes, so we are immediately 15 per cent less expensive than many other countries such as Australia, Canada and America."
Film Auckland executive manager Michael Brook said the city lured many overseas ad-makers because of a combination of expert crews, easy access to locations and cost. "Auckland is attracting about 100 international advertising productions a year and the number is climbing. Some have budgets in the millions and they bring in a lot of money in a short space of time.
"One recent production was only here for eight days but booked out 140 room nights because of the number of people involved."