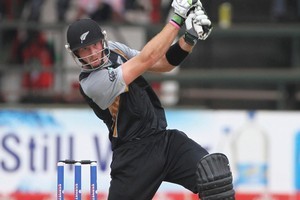 New Zealand's best cricketers make a welcome, if brief, return to the domestic first-class game next Monday.
With the scheduled opening tour game in Australia called off, New Zealand players will appear in the second round of the Plunket Shield before heading across the Tasman next Monday for two tests.
Auckland recall three internationals against defending champions Canterbury at Rangiora: batsman Martin Guptill and senior seamers Chris Martin and Kyle Mills, who came home early from Africa with a groin injury.
Batsman Neal Parlane, 11-wicket hero of the first-round win over Northern Districts, Andre Adams, and 12th man Dean Bartlett step aside.
Northern Districts have a 12 loaded with nine past and present internationals for their game against Wellington at Lincoln.
The four coming in fresh from their trip to Zimbabwe are former national skipper Dan Vettori, batsmen Kane Williamson and BJ Watling and seamer Graeme Aldridge.