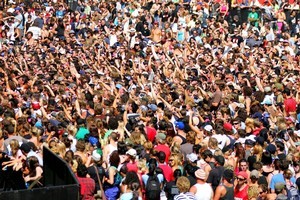 Kanye West has been axed from the New Zealand leg of the Big Day Out after major changes were made to the layout of the Auckland festival.
New Zealand Big Day Out promoter Campbell Smith says West's axing was "vital" to keep the festival in Auckland. The event will instead be headlined by reunited rock band Soundgarden.
Smith said organisers were forced to downsize the festival to keep the Big Day Out in New Zealand, so next year's event will only have four stages including just one main stage with no 'D' barricade, with a smaller stage set up at the back of the stadium.
What do you think of plans to scale down the NZ Big Day Out? Here is the latest selection of Your Views: