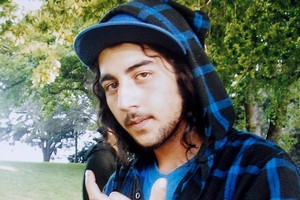 A young man is fighting for his life in Waikato Hospital as his whanau mourn for his cousin who died in the same accident.
Shannon "Manny" Waaka, 17, died on Sunday when the car he was driving crashed into a power pole in Leamington and spun out of control before hitting a tree on the lawn of a Browning St property.
Three passengers, all relatives of the driver, were in the car.
His cousin Conroy McGarry, 20, was yesterday in a critical condition in Waikato Hospital, surrounded by family members.
It is understood McGarry was in the front seat at the time of the accident and he suffered a lacerated liver and head injuries.
Pare Carr, 16, was in a stable condition and Patrice Heta, 19, suffered cuts and bruises and was discharged from the hospital's emergency department.
Josephine Waaka yesterday told the Herald her son, the youngest of four, was a responsible driver and she was upset by reports that said he may have been drinking.
She said the family had not had any confirmation from the police and were awaiting a report from them as well as toxicology test results.
Ms Waaka said her son was affectionate and caring towards his extended family.
She often lent the car to her son so he could take his father, Dave Stent, who suffers from cancer, to Waikato Hospital.
"I said to him 'You have to be responsible with it [the car] otherwise I'm going to take it off you'," she said.
"We just assumed that he had gone to pick up his cousins which he usually did to take them home.
"At the end of the day he was responsible as far as we were concerned."
Mr Stent told the Herald he saw his son about 15 minutes before the accident when he briefly stopped in at his Cambridge home.
He said he appeared fine and did not appear to have been drinking.
Mr Stent said his son acted as a caregiver to him, changing his bandages when needed.
The pair had plans to start a commercial fishing operation for shark off the coast of Mokau this summer in an 8m boat he had built.
"He was a good boy and he was growing into becoming a fine young man," he said.
A police statement said Shannon was breaching the conditions of his restricted licence when the accident happened.
It also said speed and failure to wear seatbelts could have been factors.
Police were awaiting toxicology reports to confirm whether he had been drinking.
Cambridge High School principal Philip McCreery said Shannon was a former student who still had several friends there.
Students were being offered counselling.
"He was very close to a small group of students here at the school and obviously they were quite upset by what had happened; it's a small town and a small community."
Mr Waaka's body is lying in state at Cambridge Community Marae where his funeral service will be held tomorrow.