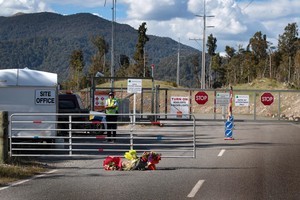 A 16-year-old boy in hospital with head injuries after his vehicle crashed into a tree near Blackball on Saturday night had allegedly been doing burnouts at the entrance to the Pike River Mine earlier and should not have been driving anyway, Greymouth police said today.
Reefton teenager Mathew Lintott was behind the wheel of the double-cab utility, with three passengers on board. He held only a learner's licence which prevents him from carrying passengers unless fully licensed, and restricts the hours of driving.
He was today in a stable but serious condition in Christchurch Hospital, having emerged from an induced coma yesterday afternoon.
Sergeant Brett Currie of Greymouth police said none of the passengers held full licences.
"A learner licence holder must drive with a supervisor who has been fully licensed for two years," Mr Currie said.
Police believed Mathew lost control of the ute on an S-bend on the Atarau Road, about 6km past Blackball. The vehicle rolled down a bank, slid on to its side and slammed roof first into a tree.
"Earlier reports by police that the two uninjured passengers fled the scene were incorrect and regrettable," Mr Currie said.
Police had spoken to the two boys at the scene, and later on Saturday night they went to Reefton police station for a formal interview.
While a combination of inexperience and speed had been blamed for the crash, Mr Currie said alcohol was also a factor, "however, there have been suggestions from the people involved that the driver had not been drinking".
The ute and another vehicle had been driving in convoy and had just come from doing skids at the mine entrance.
"We have also spoken to the occupants in the second vehicle. It is too early to say what, if any, charges will be laid, but it is still an active inquiry."
Mr Currie said the crash should serve as a warning to young drivers: "Resist peer pressure, comply with the conditions of your licences, keep your speed down and stay safe."
- APNZ