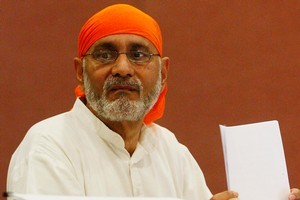 A Hamilton doctor accused of misdiagnosing a woman's bowel cancer told a hearing he did "the work of 2.2 doctors" and often put in 100 hours a week.
But despite his long hours Dr Suresh Vatsyayann said this did not compromise his patients' safety.
Dr Vatsyayann, who was struck off the medical register in April for falsifying records, is defending allegations against him at a Health Practitioners Disciplinary Tribunal in Hamilton that he failed to diagnose a woman's bowel cancer.
A Health and Disability Commissioner investigation found he had breached the Code of Patients' Rights by failing to make the proper investigations with his patient.
The hearing resumed in Hamilton yesterday after a five-month break after Dr Vatsyayann called for an adjournment because of illness.
Dr Vatsyayann's former patient, who has name suppression, was diagnosed with iron-deficiency anaemia and gastritis, but another GP later arranged tests that revealed tumours in her large intestine and liver.
Yesterday the tribunal heard how the patient's haemoglobin levels fell from 127 in July, 2007, to 113 three months later.
Aaron Martin, director of proceedings at the commissioner's office, asked Dr Vatsyayann if it was a "red flag" when the woman's haemoglobin levels then fell from 113 to 94 the following month.
The woman had also complained of breathlessness, aching and "not feeling great".
She went to Dr Vatsyayann's clinic but claimed he never performed an abdominal check on her.
Asked if he did he replied "absolutely" but then said: "I can't know, under no circumstances do I know."
In often rambling responses to questions about his note-taking and clinical procedures Dr Vatsyayann yesterday told the five members of the tribunal he could tell what illnesses they had by looking at them.
"I know seven languages, have presented 28 research papers and am the most qualified GP in the country to my knowledge and I see on average 100 patients a day. A doctor works maybe 40 hours a week so I do the work of 2.2 doctors," he said. The hearing is set down to last until Thursday.