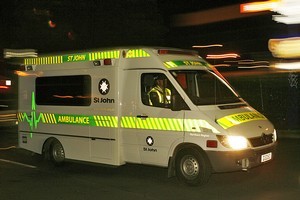 A 16-year-old Reefton boy badly hurt in a crash near Blackball on Saturday night is fighting for his life in Christchurch Hospital with serious head injuries.
His front seat passenger, also 16, was expected to be released from Grey Base Hospital today.
Police said the Reefton youth was believed to have been the driver of a ute with three passengers and was travelling in convoy with a car carrying other youths when he crashed on a bend on Atarau Road, 6km north of the Blackball turnoff about 9.40pm.
Detective Chris Maitland of the West Coast CIB said this afternoon that by the time emergency services arrived the two back-seat passengers had left the scene.
The driver held only a learner's licence and Mr Maitland said the driver's youth and inexperience were probable factors in the crash.
The Nelson police crash investigation team was still investigating the accident scene today.
- APNZ