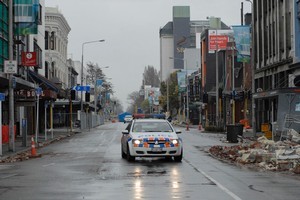 Bus tours into Christchurch's earthquake-ravaged city centre red zone begin this weekend, giving the public a chance to see inside the cordoned area for the first time.
But those wanting a seat on a bus through the CBD red zone are being urged to pre-book as organisers prepare for a rush on tickets.
Places on the buses will be managed by the Canterbury Earthquake Recovery Authority (Cera) through a booking system.
When people call they will be asked several safety questions so that the potential danger of being in the CBD is made clear to each person, and Cera will record who is on each bus.
Warwick Isaacs, Cera general manager of demolitions, says the CBD is an active worksite, as well as being a dangerous place should another large earthquake occur.
A spokeswoman for Cera said: "No one will be allowed to get off the buses while they are in the CBD because, as Christchurch residents are well aware, anything can happen at any time.
"But in the event of a major earthquake visitors may need to walk out of the area, so everyone on the bus must wear sensible shoes - no slip-ons, jandals or high heels - and be dressed for the weather conditions."
Trips will cost a gold coin contribution, which will go towards covering the $200,000 it is costing Cera to put on buses and hire staff.
The initial CBD visit programme runs from this Saturday, November 5 to December 11. Buses will run between 2pm and 6pm on Saturdays and 10am to 6pm on Sundays.
The bus trips start and finish at Cranmer Square. The route may vary as the trips work in with ongoing demolition work in the CBD.
Everyone aged 15 and under must be accompanied by an adult at a one adult-one child ratio.
The spokeswoman added: "Some people will not be affected by what they see in the CBD, but others may be surprised at how they react. The number for the Quake Support and Counselling Line is 0800 777 846. Cera will be reminding people how to access support systems when they book, and during the trip."
Bookings will be taken Monday to Friday between 8am and 5pm, starting tomorrow by phoning 0800 RING CERA (0800 7464 2372).

- APNZ