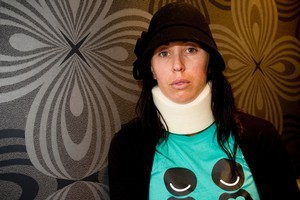 An escort who had her teeth knocked out during a party at her house is now accused of starting the fight and has been charged with assault.
Lisa Lewis, who made headlines after streaking in a bikini during an All Blacks Rugby World Cup game, suffered serious injuries from the blow she received on September 17, and was taken to Waikato Hospital in an ambulance for treatment.
But the 30-year-old received a police summons to appear in the Hamilton District Court this Friday for allegedly assaulting the 39-year-old Te Awamutu man, who has interim name suppression.
The man, who last month pleaded guilty to assaulting Ms Lewis, could not be contacted for comment yesterday and did not return phone calls.
He is due to be sentenced on November 22 and is seeking to be discharged without conviction.
Ms Lewis told the Herald that she did not intend to enter a plea on Friday, and will seek further legal advice.
She has lodged a complaint with the Independent Police Conduct Authority against the investigating police officer.
"My faith in the justice system is weakening," Ms Lewis said in her complaint.
"I am a victim, not the assaulter. I have suffered enough trauma and suffering through this ordeal, and now [the police officer] is saying I am up for assault?"
Her partner, Drew Cocker, had blamed members of his family who disapproved of their relationship for the attack.
Mr Cocker claimed his aunt threw the first punch at Ms Lewis, who struck back at a barbecue that was meant to be their house-warming party.
Ms Lewis, who still has to wear a neck brace, said she was also seeking help from the Hamilton Abuse Intervention Project.
She has been auctioning her underwear online to raise funds to pay for her legal and dental costs.