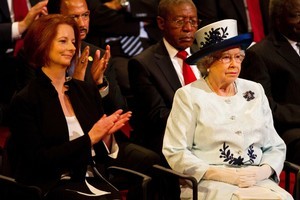 Essentially, it is doing little that the United Nations could not do if the Commonwealth were to disappear.It hardly boded well for the Commonwealth's future when the New Zealand Prime Minister decided it was unnecessary for him to attend the Commonwealth Heads of Government Meeting in Perth. Certainly, John Key is less than four weeks from an election.
But it seems likely that if it was a gathering of, say, Apec and involved this country's real interests, he would have felt bound to go. Indeed, his absence from the Perth meeting was part of a picture that has led even an internal Commonwealth report to question the group's relevance.
If it is to survive, the Commonwealth must find a unifying purpose. Only this will disprove the doomsayers who see it as a vehicle of transition from the old British Empire that will inevitably wither and die.
The seeds of disintegration were sown in the mid-20th century when an array of former British colonies on the Indian subcontinent, Africa, the Pacific and the Caribbean gained independence.
Most became republics rather than recognise the Queen as head of state. Thus, one of the common features when the Commonwealth was formed in 1931 was lost.
For a time, the increasing cracks were papered over. The Commonwealth did sterling work in helping to shut down apartheid in South Africa and achieve majority rule in Rhodesia. But, more recently, it has been much less successful in dealing with military coups, the suspension of democracy and abuses of human rights in Nigeria, Pakistan, Zimbabwe and Fiji. Indeed, the Commonwealth's attempted intervention has often been dismissed out of hand.
Perhaps worse still, it has been silent about persistent violations of human rights and discrimination in member states. According to a report of the Commonwealth Eminent Persons Group, this lack of vigour and direction means that the Commonwealth risks losing the respect of its own people.
One of its many recommendations is, therefore, a fresh focus on breaches of human, political and civil rights through a Commissioner for Democracy, who would identify violations in any of the 54 member states and suggest remedial action.
Unfortunately, Sri Lanka, which only recently emerged from a bloody civil war, has already signalled it would reject this, and is against giving the Commonwealth a "punitive role" on civil rights.
Indeed, it says much about the state of the grouping that Caribbean members sought to prevent even the publication of the Eminent Persons Group report.
They did not want such a realistic appraisal to be aired. Because the Commonwealth operates on the basis of consensus, a single country can block publication.
This means only several of the report's conclusions have been disclosed. These, however, are damning. They confirm the group believes the Commonwealth has failed to stand up to values that it has declared fundamental to its existence and is in danger of losing its relevance.
If some members continue to thwart attempts to make the grouping more credible, it is difficult to see its survival in any meaningful form, aside from the staging of the Commonwealth Games every four years.
The diversity that was once hailed as its strength has, effectively, become its Achilles heel. It has begun to resemble a random grouping of nations. Essentially, it is doing little that the United Nations could not do if the Commonwealth were to disappear.
In that context, it is easy to see why Mr Key decided his attendance at the Perth gathering was unnecessary. If nothing changes and the biennial Commonwealth Heads of Government Meeting continues to serve virtually no purpose, there will surely be more absentees.