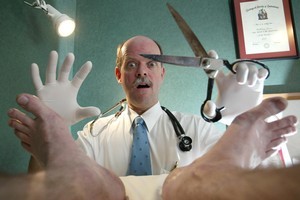 Vasectomies for a snip? Yes please.
That was the reaction of Wellingtonians who spotted a cut-price deal on the website grabone.co.nz.
"Today you'll pay just $275 for a vasectomy from Snip Vasectomy Clinic to take the lead out of your pencil, the butter out of your bangers and mash, the sparkle out of your crown jewels... you get the picture," the ad read.
"Seedless grapes, non-alcoholic beer, low-calorie cola. Sometimes the best things are an improvement on an existing concept."
It worked and the - mostly female - punters were hooked, with the deal selling out.
Snip Vasectomy Clinic owner Dr Simon Snook says he's preparing for a pre-Christmas rush.
"The phone went crazy," he told APNZ.
"What I saw yesterday was this whole group of people who have been planning to get a vasectomy for quite some time and then haven't quite got around to it," he told APNZ.
"It was the ones who needed just that little extra call to action, I think."
Vasectomies are promoted as 99.999 per cent effective and can take just 15 minutes to perform.
Dr Snook uses a "no-scalpel" technique.
"Basically when it's this cheap we just use a couple of bricks and a little bit of whiskey," he said.
For any men who just turned white, don't worry. He was joking. You'll get the full noise and won't feel a thing. Well, not much ...
- APNZ