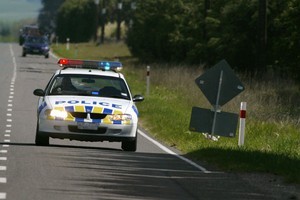 Seven people have been killed in a horror weekend on the roads that police say has been "gut-wrenching".
A pedestrian, struck and killed by a car in Auckland early this morning, brought the holiday road toll just shy of last year's, when eight people were killed on the roads over Labour Weekend.
That number is too high for national road policing manager Superintendent Paula Rose, who said it was "gut-wrenching" to hear about the deaths.
"I get phoned every time there's a fatality over the holiday weekend. Now I don't mind getting woken up in the middle of the night to hear that, I'm not related to these people.
"But you think about somebody tonight potentially going to have a knock on the door telling them your son, your wife, your husband your kid is not coming home."
Ms Rose said the deaths were the sad consequence of people not making good decisions all the time.
"Disappointing doesn't cover it - saddened, because we've got seven families who now, their life's gone on hold.
"Certainly for the seven deceased, their life's stopped. But the hurt, the identifying the body at the morgue, the ringing up and telling all your friends and family, the empty workspace or desk at school - all of those things are now going to play out over the next few days for these seven families."
Alcohol had been suspected in a few of the crashes, while a lack of seatbelts was evident in others.
Speed had also been a factor in some of the fatalities, but speed generally had been very good over the weekend.
Ms Rose said it was positive that the overall number of crashes, and the number of complaints about unsafe driving, were well down on last year, as well as on a five-year average.
"So there's some positive indicators which are something that we have to take heart with, but we need more people to be making good decisions all the time," she said.
"It's not just the driver - it's the pedestrians, it's the passenger, people out socialising with them."
The pedestrian death on Great North Rd in Auckland's Pt Chevalier this morning was potentially related to the Rugby World Cup celebrations.
Police were investigating whether the pedestrian had been coming back from the game or a Fanzone but were unable to confirm that at this stage.
"Even if it is, it's still a young person walking down the road who isn't going to be walking down the road tomorrow," Ms Rose said.
The driver was assisting police with their inquiries after the crash about 2.30am.
Four people were killed in three fatal crashes yesterday.
A woman was killed when the car she was driving struck a motorway bridge pillar near Tauranga about 10pm.
Two people died in a single car accident on State Highway 2 south of Hastings shortly after 2am yesterday, and a 30-year-old man was killed in a crash at the intersection of Bosher Rd and State Highway 1, north of Wellsford, about 9am.
There were two deaths after crashes on Saturday.
A man was killed when a car crossed the centre line and collided with another vehicle on SH2 near Napier about 7am, while a motorcyclist died in hospital early yesterday after crashing into a fence in Whanganui about 7.30pm Saturday.
Ms Rose said police did not want anyone else to die on the roads this weekend.
"The aim for police is to help everyone make it home safely from their Labour Weekend break. To do this, all of us need to take care," she said.
The final death last year happened just before 6am Tuesday, when the holiday toll period officially ends.
The worst Labour Weekend road toll was in 1978, when 16 people were killed over the holiday weekend.
Overall, the road toll is well down on last year, with about 75 fewer deaths to date.
- APNZ