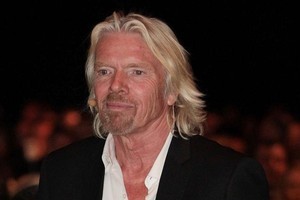 Not all billionaires are created equal - especially when trying to secure a table at one of the most sought-after restaurants in Auckland on Rugby World Cup final weekend.
Sir Richard Branson enjoyed lunch at Soul bar on Friday with his daughter Holly. But when Prince Albert II of Monaco tried to book an area for late last night, he was turned away.
Owner Judith Tabron said Monaco's honorary consulate, former National Party minister Richard Worth, tried to block an area of the restaurant for last night before the Rugby World Cup final but the bar was fully booked.
"We would loved to have hosted him ... But we already had too many bookings. We just didn't have the space to host him privately, and he would have had to sit in the mosh pit. I don't think Prince Albert does mosh pits."
Branson is worth an estimated $5.3 billion, while Prince Albert is worth a mere $1.25b.
Branson revealed he planned to walk the Fan Trail to tonight's match and said he had struggled to pay for a meal since arriving in New Zealand: "Any time I've been in New Zealand I've had the most friendly, friendly welcome. Nobody will let me pay for anything, I've spent my whole life trying to work hard to make some money. What's the point of all that hard work? I've been spoilt rotten."