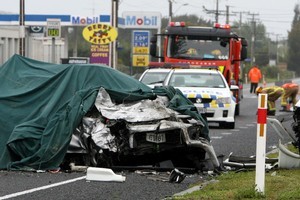 The long weekend has claimed its first road fatality, with the death of a motorist in Napier this morning.
An ambulance spokeswoman told APNZ the motorist was involved in a two-car crash in suburban Bayview about 6.40am.
A second person was seriously injured and a third moderately, she said.
Emergency services were still at the scene.
Eight people were killed and 125 injured on the nation's roads last Labour Weekend.
The holiday road toll period started at 4pm yesterday and runs until 6am Tuesday.
Overall, the road toll is well down on last year; by yesterday there had been 220 road deaths in the year to date, compared with 297 at the same time last year.
National road policing manager Superintendent Paula Rose said the drop in the road toll was due to several factors, including driver behaviour and a reduced police tolerance for speeding over holiday weekends.
If people slowed down, the amount of trauma people suffered in a crash reduced and survivability increased, she said.
"At all our previous weekends we've seen good results in the ACC data, and that tells us that fewer people are spending time in hospital recovering from injuries, and of course our death toll on our roads is much improved.''
Police had raised their profile on the roads, particularly over high-risk holiday periods, and also had a few new tools to keep unsafe drivers off the road.
This weekend they would use hand-held devices to check licences on the spot.
"If they are fit to drive, great, but if they've got a disqualified licence or if they are breaching the conditions of their graduated licence or anything like that, then we want them off the road because it's just not safe for you and I.''
Ms Rose said a lot of people were driving to Auckland for the Rugby World Cup final this weekend, and there would also be people making their way to fan zones throughout the country.
- APNZ