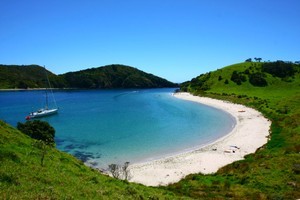 An English backpacker has been punched unconscious and robbed of his wallet, cellphone and watch in the Bay of Islands.
The keen rugby fan suffered a fractured jaw - threatening his attendance of tonight's Rugby World Cup bronze medal match.
The attack is the third on a tourist in Paihia in little more than a week.
The 22-year-old was assaulted after meeting a couple of locals in a bar. When it closed about 2am yesterday he left with two or three others and headed towards the beach.
Paihia police sergeant Peter Masters said the victim was punched, knocking him unconscious for a short time. His wallet, cellphone and watch were stolen.
A member of the public who saw the attack called the police.
The attackers had fled when officers arrived but about 9am yesterday a man reported to be behaving aggressively was arrested and taken to Paihia police station.
Police allege the man had the tourist's cellphone in his pocket when searched.
When the tourist was questioned again by police the extent of his injuries became obvious. He was taken to a doctor's surgery and an x-ray revealed a fractured jaw and a missing tooth.
Mr Masters said the tourist was to be taken to Whangarei Hospital and might not make tonight's match between Australia and Wales at Eden Park.
"He's taking it reasonably well, but he's still keen to get to the game.''
A 23-year-old Kaikohe man was due to appear in Kaikohe District Court today on charges of disorderly behaviour, aggravated robbery and wounding with intent to cause grievous bodily harm.
The attack came only a week after two other tourists were robbed in Paihia, the first attack leaving an American backpacker unconscious in the middle of the town's main road.
Two 16-year-olds - one from Paihia, the other from Moerewa - were each charged with two counts of aggravated robbery.
The American tourist was found unconscious in the middle of Marsden Rd by a security guard about 12.40am on October 12 and taken to Bay of Islands Hospital in Kawakawa with head injuries. His wallet and shoes were taken in the attack.
The second victim, attacked less than an hour later, was a 22-year-old Englishman here for the World Cup. Youths attacked him, but he managed to escape, albeit losing his jandals and wallet as he fled.
For more articles from this region, go to Northern Advocate