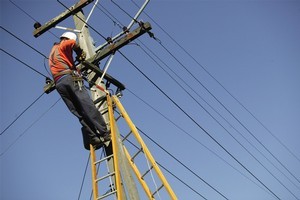 A $75,000 fine for Delta Utility Services Ltd over the death of an Alexandra lineman is only a "slap on the wrist'' for the company, the man's grieving family says.
"We feel cheated - the end result did not reflect the seriousness of what happened,'' Karyn Steel said yesterday.
Her husband Roger died on December 9 near Millers Flat after the power pole he was working on toppled over.
Mr Steel's employer, Delta, pleaded guilty to a charge of failing to take all practicable steps to ensure the safety of its employees while at work and was sentenced by Judge Stephen O'Driscoll in Alexandra District Court today.
The charge, laid by the Labour Department under the Health and Safety in Employment Act, carried a maximum fine of $250,000.
After the sentencing, Mr Steel's family said they were disheartened and "disgusted'' at the fine the company received.
His son-in-law, Grant Harrex, said: "It doesn't send a message to any other industry or employer. The penalty is nothing but a slap on the wrist. It's an insignificant amount for them.''
Judge O'Driscoll said both Delta and the Labour Department had agreed the company's culpability was "at the high end of the scale''.
Two reports by the company had earlier noted the "non conformance'' of the concrete power pole, which had been recently installed. One of those reports noted the pole was leaning. The job card issued to Mr Steel did not mention those issues.
He was working on his own, strapped to the pole, when it toppled over. He fell 15m, Judge O'Driscoll said.
The company had failed to mark or red-tag the pole as unsafe to climb and failed to formally notify Mr Steel, on his job sheet, of problems with the pole.
"The obviousness of the risk is high. It would cost the company probably nothing to have tagged the pole or written the communication about the pole on his job sheet.''
There was no reason for Mr Steel to have questioned the safety of the pole, made a visual assessment of it or inspected it before climbing it.
"I hope Delta has learnt from this ... I think they have, and I hope everyone learns from this so the tragedy will not be repeated,'' Judge O'Driscoll said.
The company's remorse, guilty plea and remedial actions reduced the fine from a starting point of $125,000, he said.
Reparation was the principal focus in cases like this, although it was uncomfortable to talk about money when considering the impact and consequences of Mr Steel's death, he said.
Delta had already paid the family $148,300 in reparation and he was satisfied that was probably a greater amount than what the court would have ordered, so made no formal order for any more to be paid.
The company had paid for Mr Steel's funeral and for his two daughters, Sacha and Rebecca, to fly to Alexandra from their homes in Australia, at the time of his death and for the sentencing.
Phil McCarthy, for the Department of Labour, told the court the pole was clearly dangerous and had been identified as such in the weeks before Mr Steel's death.
About a dozen members of Mr Steel's family attended the sentencing, with a similar number of Delta staff and management in court.
Mrs Steel and daughter Rebecca read their victim impact reports in court, struggling to hold back tears.
Mrs Steel said she had been married for more than 40 years.
"I try to put on a brave face now, but I'm empty inside.''
Her husband had talked of a "lowering of safety standards'' at his workplace and was concerned about the attitude of some of his workmates.
After sentencing, Delta chief executive Grady Cameron said Mr Steel was a valued and respected member of staff and would be sorely missed by Delta.
The company had acknowledged the failures in its processes and taken remedial action.
Those measures included making sure all poles deemed unsafe to climb were red-tagged, changes to job sheet procedures, refresher training for line staff on correct pole assembly and installation, and trialling a system to quickly locate Delta vehicles and therefore employees, during an emergency.
Mr Cameron said he was unaware of any concerns by Mr Steel about a "drop in safety standards'' and would have acted on those concerns if they had been brought to his attention.