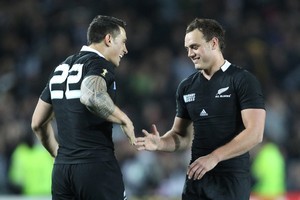 The handshake that lasted almost longer than the time Sonny Bill Williams was in Sunday night's Rugby World Cup semifinal is about respecting a teammate.
Williams was filmed doing a secret handshake with fullback Israel Dagg as he ran on to the field in the last 10 minutes of the All Blacks-Wallabies match on Sunday.
Minutes later, Williams was sinbinned as a result of a shoulder charge on Wallabies first-five Quade Cooper.
The elaborate handshake - which featured a slap, a couple of knuckle-knocks, finger slides and a click - has been a hot subject on a number of social-network and news websites.
On networking site Tumblr, a person wrote: "Sonny Bill pretty much came on to show us his cool handshake and then gap."
Another poster wrote: "Keep calm, Sonny Bill's ... oh wait."
Those on Twitter also found the handshake fascinating.
One person wrote: "Secret handshake between Israel Dagg and Sonny Bill Williams - bromance."
Another said: "Sonny Bill and Israel Dagg, are you fullas really finger-snapping your handshake? Points off your hotness for that one."
At a media conference in West Auckland yesterday, players Ali Williams and Stephen Donald joined Sonny Bill Williams to answer questions.
It was a somewhat odd start, as the two Williams men seemed to play a joke, each answering for the other.
Speaking about Sonny Bill's handshake with Israel Dagg, Ali Williams said the secret gestures shown on the field were about respect.
"[It's] a backs thing, I think. I think it's just a sign that guys respect each other a lot.
"They spend a bit of time together and develop a handshake that means something to each individual pairing."
Asked if the forwards had secret handshakes, Ali Williams said: "We don't do that one. We do this other one." Asked to demonstrate it, he said: "It's personal."