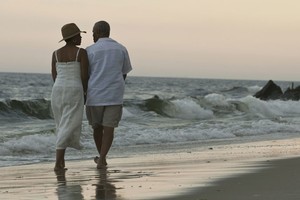 What's the best way for a girl to get a guy during the Rugby World Cup? Say that you love rugby.
According to data from online dating site FindSomeone, 47 per cent of Christchurch women are now listing rugby as an interest in their personal ads, ahead of the national female average of 43 per cent and above their male counterparts who sit at 46 per cent.
"As Kiwi girls seek to catch Mr Right in an increasingly competitive market, they are now baiting the hook with rugby," said FindSomeone manager Rick Davies.
An 18-year-old from Fendalton listed the All Blacks as an interest on her online dating profile, despite also saying "I rarely watch sport".
A 36-year-old woman from Ilam said she was into rugby and watched all the games, but didn't like any other sport.
Before the cup 15,000 messages of interest were sent between men and women on the site.
Now, the number is 20,000, with more than 700 of those messages mentioning rugby. "Males seem to be taking the bait with messaging at its highest level in four months," Mr Davies said.
He thought the reason behind the increase in rugby-loving women could be the tough competition for available men.
A Statistics New Zealand 2011 population report showed there were more than 50,000 "excess" females aged 25 to 49 in New Zealand.
"We think [it's] driven by the increasing number of women wanting to find someone special during the current man-drought, a situation made worse with so much attention on rugby at the moment," he said.
Christchurch relationship counsellor Pauline Marshall said it was quite common on both sides to go overboard in showing interest when courting.
"It's normal for people to go out of their way to show interest in something to catch a guy. It usually dies down after they've been together for some time," she said. However, if the women were really not interested in rugby they'd be better off just being honest, she said.
"It's not good to be dishonest or go to extremes. They should just be as much themselves as they can, they don't need to pretend. It's healthy in a relationship to have common interests so that both partners spend time together, but it's also good to have separate interests and go halfway for the other person." APN