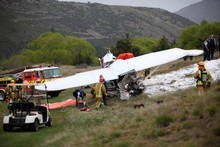 A man who died when his plane crashed on to an Arrowtown golf course was on a scenic flight with his stepson, who was visiting from Australia for a family holiday.
It is understood engine failure caused Ian Douglas Sloan's Cessna Skyhawk to crash into an embankment near the eighth hole of the golf course at about 3.15pm on Monday.
Emergency services were at the scene soon after, but the 59-year-old Tauranga man could not be revived. Mr Sloan's 36-year-old stepson and a woman in her 60s, also believed to be a relative, were injured in the crash.
Amanda Sloan, the daughter of Mr Sloan's cousin, said the family were shocked by over his death.
"We were pretty close. It was a total shock," she said.
Mr Sloan lived at Mt Maunganui, but had been working on a skifield near Queenstown this year.
"We haven't seen him much this year but he did help me move house on Friday, then he took us up in his plane.
"He took my son up and two of his mates on Friday and then me and my mum on Saturday. It was special. I feel really quite rapt we had that time.
"He took us right around the bay and took us out to have a look at the ship [MV Rena]. He took a few people out to see the ship."
Ms Sloan said it upset her to know she and her son were in the plane days before it crashed.
"We couldn't have had a better flight with him.
"It was so peaceful and a really easy flight, there were no bumps. It was just great to see the bay like that.
"But I feel a bit scared of that thought. It sounds like it was an engine problem."
Ms Sloan said Mr Sloan stepped in to help her raise her son Jaden, now 15, and his support had been "amazing".
This year he contacted her to announce he had bought a plane.
"All of a sudden he said 'I've bought a plane and I'll have to take you up on a flight'.
"He took Jaden up earlier in the year. He was going to take me to see my mum in Whitianga, that was our plan. But we won't be doing that any more.
"He has one daughter and a stepson, who was in the accident. He's flown from Australia to spend some time; they were on a two-week holiday together. He was a wonderful guy. He was a quiet guy with a great sense of humour," she said.
Mr Sloan's sister said it was too soon for her and their 86-year-old mother to speak about what had happened.
They were also worried about family members still in hospital. The pair remained in Dunedin Hospital and were in a stable condition.
Tauranga Aeroclub president David Campbell said Mr Sloan had been a member of the club for several years.
"He was just a really nice guy and this is a real tragedy for the club."
Mr Campbell said Mr Sloan bought the plane several years ago from another pilot in Tauranga.
Police and the Civil Aviation Authority are still investigating the cause of the crash.
It is understood CAA investigators visited the wreckage yesterday before it was removed from the site.
Golfers on the course said the plane was leaking fuel heavily after it crashed.
They raced to get Mr Sloan and his passengers from the wreckage.
By Anna Leask @AnnaLeask

Email

Anna