Jane Phare escapes Auckland for the school holidays - and then has second thoughts.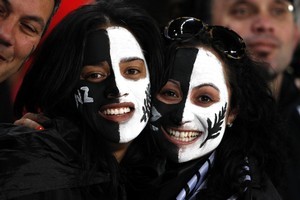 Dear Diary
Lovely to get out of Auckland. Bloody Quay St blocked off again last Friday. Took me ages to get home. And everywhere rugby, rugby, rugby.
Queenstown's as gorgeous as ever. Last of the snow glinting off the mountains, cloudless blue skies. That crisp, fresh air. And everywhere the signs of spring - daffodils and tulips bursting into bloom beneath a canopy of Robin Hood green. Blossom trees everywhere.
--
Dear diary
Bit of a poor effort down here. Noticed the odd silver fern flag tied forlornly to a farm fence. But really, it's pathetic. In Auckland, we have at least one or two flags stuck on our cars, 10 if you're Tongan. Kind of like being in a private club, I tell the locals.
And no one seems to be too upset about the Magna-Carter's groin - or the other groin - that's out of the World Cup.
And what about that Piri Weepu? Not bad, eh? And Mils breaking up on the telly? I cried, I can tell you.
--
Dear diary
Haven't been invited to Queenstown's event of the week, the opening of Sir Michael Hill's "new look" store. I would have been on the guest list in Auckland. Not many celebs in town; no sign of Sam Neill or Russell Coutts at Joe's Garage. No D-list sightings either - like that bloke who kept his girlfriend on ice for a year, or the couple who dumped their Swedish au pair at the airport in Samoa. The dwarfs have packed up and left. Nothing much happening - except a local thumped that bouncer Jonathan Dixon (I bet Mike Tindall's sniggering) at a bar last weekend. Can't think why.
--
Dear diary
Definitely feeling homesick. Never thought I'd miss those fans in ridiculous costumes and face paint waiting at bus stops, or all those tourists bumping their suitcases-on-wheels along the road. The cruise ships, that inflatable rugby ball that looks like it's about to explode, the flags, flags and more flags.
--
Dear diary
Tonight I'll light the fire (still chilly in the evenings here), line up the bean bag in front of the flatscreen and scream for the All Blacks.
PS. Back in Auckland tomorrow. Can't stand it any longer. This week's going to be a ripper.