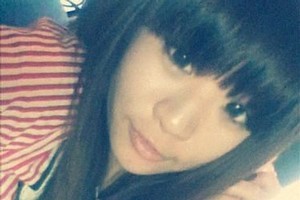 The two men accused of killing Kiko Li went to a supermarket and bought bottles of Coke, Sprite, a loaf of bread and three knives just days before the murder, a court was told this morning.
The Crown alleges Honglin Yu and Yongxin Li used at least one of the knives to stab Kiko Li to death in her car, somewhere in West Auckland.
The 18-year-old was reported missing. Her body was later found in the boot of her abandoned car in Hamilton.
Honglin Yu has pleaded not guilty to murdering Jiayi Li, also known as Kiko, and stealing her eftpos card.
Today a jury in the High Court at Auckland were shown CCTV footage showing two men buying items, including knives, at Lynfield Countdown in May last year.
The Crown says the two men are Honglin Yu and Yongxin Li.
Yesterday Crown prosecutor Aaron Perkins told the court that Yu and Yongxin Li met with Kiko Li in the early hours of May 19 on the pretence of giving her a driving lesson.
The pair had sent a flurry of text messages in the days leading up to her death. One of the messages, allegedly from Yu to Yongzin Li, said: "Kiko has probably quite a lot of money in the card. Family is very rich. Furthermore. I know her pin..."
He said CCTV footage of Kiko Li's car shortly before she was killed showed Yu driving, Kiko Li in the front seat and Yongxin Li sitting behind her.
Yu's lawyer Mark Edgar urged the jury to keep in mind the possibility that his client had changed his mind about the killing.
He pointed to another text message from his client days before the killing which said: "I've obtained $2000. Put our plan on hold."
Kiko Li's cousin Jing Ping "Rebecca" Zhang has also given evidence. She told the court Yu and Kiko Li were close friends and she phoned Yu when Kiko Li went missing.
"Mr Yu said he drove Kiko back home and dropped her off at the bus stop on the side of the road."
Ms Zhang said Yu also told her that he had sent Kiko Li a text message.
"He said he couldn't get a reply."
Further text messages between Yu and Yongzin Li have also been read to the court by Detective Sergeant Jason McIntosh.
Yu to Li: Oh, I even have the thought of killing people. Who do you find disagreeable? I will help you fix them.
Li to Yu: If killing people can bring money, I will also kill.
Yu to Li: Let the two of us make a plan to kidnap someone.
Li to Yu: After kidnapping how to ask for money? Anyexperience? Where to put?
A short time later Yongzin Li is alleged to have asked Yu who they should kidnap.
Yu responds: "Of course, kidnap whoever is rich. Whoever has money. Kill hostage as soon as getting the money."
The trial is set down for three weeks and will hear from 44 witnesses.
- APNZ