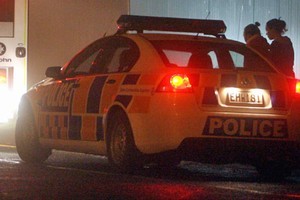 A 36-year-old man has died after crashing his car into a power pole while being pursued by police south of New Plymouth.
The Independent Police Complaints Authority have been informed about the crash.
Police said the man deliberately rammed a parked police patrol car in Opunake at about 7:40pm last night before heading south toward Manaia.
His Toyota was pursued by an officer who spotted him speeding a short time after the incident.
The pursuit was abandoned "very quickly" after the officer lost sight of the man's vehicle, police said.
It was restarted by another officer who spotted the man's car still travelling south toward Manaia.
"At approximately 7.55pm the police vehicle had travelled through Manaia and came across the Toyota vehicle which had crashed into a power pole near the Kearin Road intersection."
The 36-year-old New Plymouth man was taken to hospital in a critical condition but died later in the evening.
Police said the crash was under investigation and the Independent Police Complaints Authority (IPCA) has been informed.