In trouble again - Tuilagi warned over disorderly conduct after downtown swim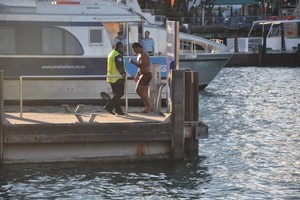 England Rugby World Cup player Manu Tuilagi was detained by police last night after jumping from a ferry as it was about to berth on the Auckland waterfront.
Samoan-born Tuilagi was met by police after he was believed to have jumped off the Fullers ferry Superflyte on its arrival from Waiheke Island with the defeated team on board, just before 7pm.
Police spokeswoman Noreen Hegarty said a member of the team, who she did not name but was confirmed by separate sources as Tuilagi, swam a short distance to Pier 3 at the downtown ferry terminal before being taken to the Auckland Central police station.
He was formally warned there about the offence of disorderly behaviour, and then released to the the England team management.
Neither Ms Hegarty nor Fullers was able to confirm a report that alcohol was involved.
But the Fullers general manager for service delivery, Warren Fowler, said the antic was extremely dangerous as it happened after the large ferry had made a turn and was about to reverse to its berth.
"It could have been tragic with vessels coming in here and someone jumping off the back of a vessel when it is going to be reversing shortly," Mr Fowler said.
It is not the first time during the Rugby World Cup that Tuilagi, who plays at centre, has run into trouble.
This month, the International Rugby Board fined him $10,000 for wearing an unapproved mouthguard carrying the name of a sponsor.
His brother, Alesana Tuilagi, a winger for the Samoa rugby side, was fined the same amount earlier for wearing the same type of mouth-guard.
Tuilagi is not the first England player to get into hot water.
Former captain Mike Tindall was in strife after security camera images showed him cavorting with an ex-girlfriend.
England team managers could not be reached for comment last night.