People in bigger and smaller cities make much more of their public travel options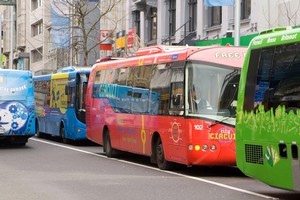 Auckland Transport is under pressure from its political masters to work harder to improve bus, rail and ferry services after a damning international comparison.
Consultants have ranked Auckland last out of 14 cities - in New Zealand, Australia, Canada and the United States - included in a benchmark study for the average number of public transport trips taken annually by its residents.
Aucklanders also pay the highest fares of any of the cities, amounting to 24c for every kilometre travelled on the average 44 public transport trips they take each year, compared with 17c in Wellington.
Rail passengers pay just 14c a kilometre towards an average travel cost of 52c, but that is higher than anywhere else including Wellington, where passengers contribute 12c to a far lower 20c.
The average Auckland bus fare of 25c a km is also higher than anywhere else, although the 40c paid for lightly subsidised ferry travel is less than Wellington's average of 57c and Sydney's 53c.
Auckland buses cost even more than the trains to run, at 65c for every kilometre travelled by each passenger, compared with 52c in Wellington.
The study has prompted Auckland Council's transport committee to propose "an integrated task force approach" between the council and its Auckland Transport subsidiary to lift service quality and lure more people out of their cars.
At the same time, the committee is urging the transport organisation to exercise restraint in dealing with future fare rise pressures, given the comparatively high travel costs already faced by Aucklanders.
Committee chairman Mike Lee has written to the organisation calling for it to develop a programme designed to enable Auckland public transport "to match or surpass comparator cities as quickly as possible".
"The study report makes sobering reading," he said in his letter to Auckland Transport chief executive David Warburton. "It makes clear that despite the major improvements in public transport that have been achieved in Auckland over recent years, Auckland's relative performance ... remains poor."
Among particular points of concern to Mr Lee is that Auckland is lagging behind even cities with significantly lower populations in patronage terms.
The 430,000 residents of Wellington, its population less than a third of Auckland's 1.33 million, take an average of 74 public transport trips annually and the 790,000 people who live in Ottawa catch 168 bus or tram rides a year.
Mr Lee noted that the quality of services provided by Auckland's buses was rated the worst of all comparator cities, and the standard of its rail services below Wellington's.
"These and other quite damning revelations make for uncomfortable reading but it is essential we resist the temptation to brush them off," he told Dr Warburton.
"Clearly there is a need for a transformational shift in Auckland's public transport performance."
A report from the study found that although public transport's geographical spread through Auckland was reasonably good, most routes had low frequency services and limited operating hours, making them uncompetitive with cars.
It recommended that there should be a greater emphasis on providing more trips over fewer routes, and an integrated study to develop consistent pricing policies for public transport and car use, including parking charges.
Also recommended was closer integration between transport networks, and better monitoring and enforcement of reliability standards required of operators.
ON THE BUSES
Annual public transport trips per head
NEW ZEALAND
* Auckland - 44, population: 1.33m
* Wellington - 74, population: 430,000
AUSTRALIA
* Brisbane - 65, population: 2.82m
* Perth - 77, population: 1.66m
* Adelaide - 59, population: 1.19m
* Melbourne - 124, population: 3.96m
* Sydney - 110, population: 5.46m
CANADA
* Edmonton - 141, population: 750,000
* Ottawa - 168, population: 790,000
* Calgary - 146, population: 1.04m
* Vancouver - 133, population: 2.27m
US
* Honolulu - 97, population: 720,000
* Portland - 70, population: 1.58m
* Seattle - 69, population: 2.71m