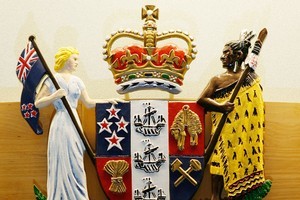 File photo
A profoundly deaf man has admitted robbing an Onekawa dairy with an iron bar and stealing $129.
An audible panic alarm was activated by the sole female attendant of Wycliffe St Superette after Rikihana Paea, 25, threatened her with an iron bar and demanded cash on September 9.
About 10am Paea was handed a metre-long metal bar by an associate who had accompanied him to the dairy.
Wearing gloves and a balaclava he entered the store and indicated to the female attendant to put cash into a bag while raising the metal bar above his head to threaten her.
With cash in hand he walked "casually'' from the store as the attendant activated the audible alarm.
After making off on his pushbike police located and arrested him just minutes later on Riverbend Rd. He admitted the robbery but claimed he would never have hit the woman with the metal bar.
In Napier District Court on Wednesday, where a signer for the deaf was used as an interpreter, he pleaded guilty to aggravated robbery.
His lawyer, Andrei Sharko, said it was "one of the saddest cases I've ever dealt with''.
He asked Judge Bridget Mackintosh to order a report with a consideration for a non-custodial sentence. "It's not inconceivable he could end up on home detention ... there's quite a lot of mitigation,'' Mr Sharko said.
Judge Mackintosh ordered a report ahead of Paea's sentencing next month.
for more articles from this region, go to HAWKES BAY TODAY