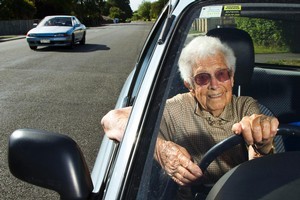 The oldest licensed driver in New Zealand - and possibly the world - died yesterday aged 105.
Ellen Noy was stunned to make international headlines last year when it was revealed she was the world's oldest driver.
Right up until her death she drove her trusty 1993 Toyota Starlet to do her weekly shopping trips, or "little short runs" around her hometown of Kaiapoi to play cards or croquet.
The sprightly centenarian had been driving for almost 60 years and had managed to keep a spotless driving record.
She died peacefully weeks short of her 106th birthday - when she had vowed to renew her driving licence once again.
Mrs Noy, who said she wasn't a fast driver, but once boasted "I don't go slow" - used her mobile independence for shopping excursions in Kaiapoi and nearby Belfast, with an occasional 12km run out to Rangiora.
She took over the mantle of world's oldest driver when Scottish pensioner Sheila Thomson died last July aged 108.
Thomson made world news when it was revealed she regularly drove to church aged 105.
When told she was the world's oldest driver, Mrs Noy joked, "Oh gosh. They might give me a new car."
Mrs Noy taught herself to drive in her husband Henry's car in the 1950s, but didn't gain her licence until 1965.
She explained how she got started and even drove without a licence: "There weren't many cars on the road back then.
"I was self-taught. I used to take my husband's car out when he was out for lunch.
"I'm not nervous driving. I keep alert. I've never had an accident or been picked up by the police. They have always said, when I have gone for a driving test, I was a good driver."
Husband Henry died 42 years ago, and the couple had two daughters, six grandchildren and nine great-grandchildren.
She was born at Sawyers Bay, near Dunedin, in 1905 and moved to Kaiapoi with Henry, an engineer on the Lake Coleridge hydro-electricity project, just after World War II.
Mrs Noy coped with the earthquake that rocked her Kaiapoi unit off its foundations last September and managed to rescue her beloved Toyota Starlet, thanks to two grandsons.
She moved out of her Kaiapoi ownership flat to live with her daughter in Mt Pleasant after the earthquakes and admitted to slowing down, just a little, in recent times.
The "treasured Great-Nana" died at Christchurch Hospital and a funeral service will be held in Kaiapoi next Tuesday.
- APNZ