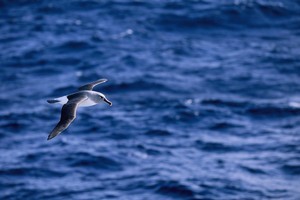 It hasn't been a great start to the week for Sam the albatross.
The large sea bird was picked up by Tauranga SPCA from Mount Maunganui's Main Beach on Monday night after people initially mistook him for an injured seagull, albeit a very large one.
Sam, as he has since been named, was taken to Tauranga Holistic Vets to recoup in the local Animal Rescue and Rehabilitation Centre (AARC).
Holistic Vets' Dr Liza Schneider said it was quite rare to encounter an albatross but she had been lucky enough to do so twice in recent years.
"He is showing a little bit of improvement but we have a lot of work to do.
"He will go to a centre for rehab. We estimate he will be there for a couple of weeks," Dr Schneider said.
"They are wonderful birds. They are just so majestic looking."
While Sam now looked strong, Dr Schneider said he was dehydrated, emaciated and exhausted when they got him.
Albatrosses have been known to travel vast distances, spending at least 85 per cent of their lives at sea - well away from land and human view.
"Last time we had one was two to three years ago."
Alba the albatross gained national media attention after he broke a wing by flying into a fishing boat at sea.
Alba was taken shore and looked after at AARC.
Sam is the third bird to arrive at the Holistic Vets this week.
A shag with a limp was taken in for rehabilitation at AARC but a kingfisher with a badly broken wing was not so lucky and will be euthanised.
The albatross is the largest of all sea birds and can have a wingspan of up to 3.3 metres.
It can fly an estimated 190,000km a year.
Bop kg gf
-APNZ
- APNZ