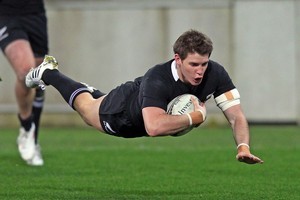 Anxious All Black supporters take heart.
Though Dan Carter may be out, his back-up Colin Slade will not let the country down in the Rugby World Cup playoffs, his family says.
"Finals have never been a problem [for him]," mother Raewyn said.
"He won't crack under the pressure. When the pressure's on, he won't let us ... or himself down."
The spotlight has gone on Slade, who turns 24 on Monday, after Carter's groin injury ruled him out of the remainder of the world cup. Although Carter's injury has given Slade his big opportunity in the No 10 jersey, Raewyn Slade said there was no jumping for joy.
"I knew when Colin broke his jaw that second time [in April], he was in doom and gloom. I knew how it felt for Colin then ... [Carter's] mum must be beside herself."
Mrs Slade has watched her son grow from a talented Christchurch schoolboy player into an All Black, and has no concerns about his ability to cope with the pressure.
"He just needs to be given a chance. He hasn't been given the time yet."
She always texts her son the night before each match he plays, and speaks to him after each match.
"He's his own worst critic. You can think he had a blinder, and he comes off and says, 'no, I still did this wrong ... and did this wrong'. That's the type of guy he is."
Asked what she had told her son, Mrs Slade said: "He already knows we are behind him 100 per cent. He's got his own motivation. He doesn't need it from us.
"He is so focused. He's always been like that, right from school, very organised and dedicated."
Slade's parents, his 14-year-old sister and 13-year-old brother, and his fiancee Emma will be cheering him on at the world cup quarter-final in Auckland on Sunday.
The family would love to be at the semifinal and the final if they can make it.
Carter has given Slade his best wishes.
"He's a great player and deserves his spot and now it's his opportunity to go out there and play his game," Carter said.
SEE ALSOSkills upgrade for Slade - page 1, Rugby Herald