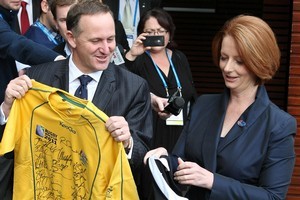 The Prime Minister has a week's grace before making good on a bet with Julia Gillard.
The two had a bet over the weekend NRL final that would see one display the other's flag, if their side lost.
With the Warriors falling short John Key now has to display the Australian flag at his weekly post-cabinet press conference.
However he was in Australia for yesterday's game and flight arrangements mean there'll be no conference today.
Mr Key will get to fly the Australian flag next week.