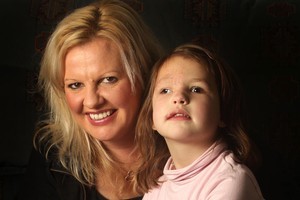 Zahnee Campbell, pictured earlier this year with mother Jade Riley, is recovering from life-changing surgery and is in good spirits despite a bad reaction to anaesthetic.
The Tauranga 5-year-old is in New York, where last week she received surgery to treat her debilitating facial vascular hemangioma tumour, an external and internal birthmark, which came from behind her right eye days after birth.
"Zahnee couldn't wake up after the op for two days and suffered extensive dehydration, but tonight she is getting her spirit back and is happy to put all this behind her," Ms Riley said last night.
"Zahnee is slowly getting better, her recovery time is just going to be a bit longer now than expected."
Ophthalmologist Dr Mark Steele carried out the procedure.
"He has operated on both eyes and tonight through all the swelling and bruising she was able to open her left eye," Ms Riley said. "Dr Steele seems to be very pleased that things went to plan, so we will just have to wait and see."