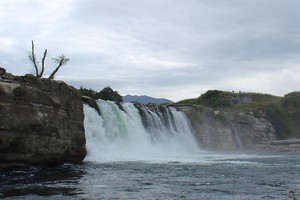 A father-of-two has plunged to his death despite desperate attempts to save him from falling off a waterfall during a rugby road trip.
Ian Oliver Randall, 39, was recovered from the water at Maruia Falls at 3pm yesterday.
He was with a group of 34 colleagues from Clemence Drilling who were travelling from Christchurch to Nelson to watch the Australia v Russia game.
They stopped at Maruia Falls, south of Murchison, about 5pm on Friday.
Randall and two others jumped over a security barrier to get a closer look at the falls.
He and a colleague then slipped down a bank.
The colleague had Randall's arm but couldn't hold him and he fell 12m into the water.
Randall comes from England but has lived in New Zealand with his wife Susie and their two young children for four years.
Another colleague, John Snow, said Randall had been an electrician at the company for about three years.
"He was a guy who fitted in with everybody. He was very good at his job. He was well-liked and will be very hard to replace.
"He never had a bad word with anybody."
He said Randall was a keen outdoors man and was passionate about skiing.
The body was taken to Nelson for formal identification.
The search team included five members of the police dive squad, three land search and rescue teams and kayakers as well as a jet boat and a helicopter.
The 12m waterfall is surrounded by slippery rocks and clay.