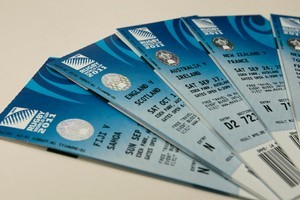 Fresh charges have been laid against two Auckland taxi drivers accused of a $845,000 Rugby World Cup ticket rort.
Demissie Tefera Asgedom, 25, and Nebiyou Tefera Demissie, 37, were arrested on the day of the opening ceremony at Eden Park and charged with being part of an organised criminal enterprise.
Police today laid a new charge against the Ethiopian pair at the Auckland District Court of dishonestly obtaining 1734 Rugby World Cup tickets valued at $845,769.
Bail has been refused for Demissie, who appeared from Mt Eden prison by audio-visual link.
He has appealed against that decision to the High Court at Auckland for a hearing next Tuesday.
Bail continued for Asgedom, who lives in Mt Roskill.
He declined to comment outside court: "There's lots of pressure man."
The number of tickets listed on the court documents is double the number originally found by police.
After the drivers were arrested, on September 9, Detective Superintendent Andy Lovelock said police had raided houses, one in Mt Roskill, and found 933 tickets for a range of games valued at $500,000, and cash.
Earlier that week, six people were intercepted at the border or en route to New Zealand and turned away by Customs and Immigration.
Mr Lovelock said police had informed Rugby World Cup officials of the fraudulent activity and cancelled illegitimate tickets.
Rugby NZ 2011 spokesman Mike Jaspers said people who had bought from unofficial sources could find themselves turned away at stadium gates but only scalpers would be prosecuted.
The compromised tickets made up only a small percentage of total sales, and replacements had already been put back on the market.
Police helped tournament organisers by tracing the tickets to credit cards confiscated from those stopped at the border.
-APNZ