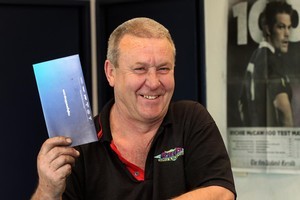 A mechanic who gave up his only Rugby World Cup ticket to host a Welsh fan stranded by car trouble has been inundated with messages and gifts from around the country.
Malcolm Reid of Napier has received emails, phone calls, cards, baked goods and even a visit from a grateful priest after the Herald publicised his generosity.
Mr Reid said the response had left him gobsmacked, especially the priest's visit.
"He just came in and wanted to shake my hand. It's different. I'm not the only one that's done nice things."
One woman emailed to say his act made her "proud to be a New Zealander", while another wrote "I can only quote the Speight's ad to you: good on ya mate".
Welsh rugby fanatic Henry Goodburn's rental car broke down twice near Napier and he missed his side's match against Samoa in Hamilton on September 18.
Mr Reid, who owns Malcolm Reid Auto & Electrix, sacrificed his ticket to the France-Canada game the same night in order to host Mr Goodburn for dinner and watch the rugby with him.
When Mr Goodburn finally made it to Hamilton at 1am the next morning, he sent an email to the Herald titled, "Your hospitality is unmatchable".
Yesterday Mr Reid received word from Mr Goodburn that he would come back to Napier to introduce his wife, who had since arrived in New Zealand, to the Reids.
As well as muffins, pies, pizza, and flowers, Mr Reid was given a ticket to Tuesday's match between Canada and Japan at McLean Park by a local newspaper.
He said the match was "marvellous, an incredibly good game", made even better when his wife Beverly was able to secure her own ticket.
Mr Reid said hundreds of other Kiwis would be doing their bit to make Cup visitors welcome, his was just the one that got picked up by media.
He said he told one couple from Portugal who were similarly stranded with car trouble to walk to McLean Park to try and scalp a ticket for Tuesday's sold-out match.
"They walked down and two people approached them and asked if they'd like tickets to the game. And they said how much, and they said we'll give them to you.
"They ended up in the main stand on the half-way line, superb seats. And they came in yesterday and they're going to bring both lots of parents out here next year and stay in Napier."