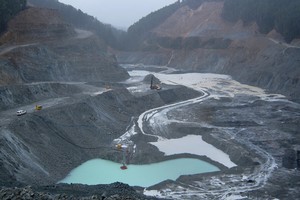 Oceana Gold is seeking 100 recruits for its MacRaes and Reefton mining operations as it pursues resource consents to extend the life of its East Otago gold mine.
Oceana chief operating officer Mark Cadzow said the proposed expansion of its MacRaes gold mine would allow for the continuance of the operation's existing 560 jobs.
This figure could rise to about 600 jobs at MacRaes should consents be granted by the Otago Regional Council and Waitaki District Council.
An extra underground shift had recently been added to the MacRaes operation, which has created an additional 30 jobs at the mine, Mr Cadzow said.
"We're currently seeking about 100 workers at both Reefton and MacRaes," he said.
An Otago Regional Council resource consent hearing for the proposed MacRaes mine expansion enters its fifth day in Dunedin today.
- OTAGO DAILY TIMES