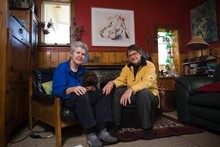 Lindsay Curnow pauses over her bowl of homemade pumpkin soup and says, "I didn't find it hard to be gay before this."
Intelligent, warm, open, frank, Curnow, 62, and her partner, Juliet Leigh, 64, are the victims of a hate campaign. Though it is likely the work of a single "nut", such rationalisation doesn't mean life goes on quite as before.
It has cost them their business, left them preparing to quit the beachside community they love and caused them to question being openly gay.
For the lesbian grandmothers, it began on a Saturday in January. While they were out, someone tramped around their Mangawhai Heads property armed with a felt-tipped pen and a dangerous mix of audacity and homophobia. The words "filth", "sluts", "trash", "dirt" and "dikes" [sic] were scrawled across their cars, fences, sleepout and the walls of their cosy house.
As shocking as that was (this was no random graffiti but personal messages positioned to assault the couple) it was nothing compared to a week later when the packing shed from which they ran their mail-order gardening business, Blooming Bulbs, was destroyed by fire.
Arson is suspected - a side door had been forced and a fire started in the tissue paper and cardboard boxes used to pack bulbs.
Shocked and stripped of the energy to start again, the couple have sold the intangibles - the brand, client and supplier lists and goodwill - of the business that provided half a dozen precious part-time jobs in the holiday town.
To visit their property is to appreciate that lives were at risk. Leigh and Curnow were at home but luckily the wind was blowing away from the couple's house just a few metres from where the packing shed stood, and away from two close neighbours.
A fence between them and a neighbour burnt down. After the fire things went quiet for a while. There were no arrests, no strong leads and no new incidents until the July school holidays when a new message appeared, introducing a religious aspect.
"God hates dikes + qeers" (the culprit is no crusader for spelling) was written in thick red marker pen on the rebuilt fence, which you can only get to by walking right through their property. Positioned in a rear corner, it seemed designed to intimidate.
In the six months between the two incidents, media had reported the sale of the business and that the couple planned to sell their home and return to Auckland. But the property is not yet on the market and it is as though the perpetrator, intent on driving them from the town known for its beaches, boating, fishing and pleasantness, had decided to give them another push.
Everyone asks, why them?
There has long been a gay presence, including a lesbian community, in the area without anything like this occurring.
"My gut feeling," says local constable Graham Gough, "is that it is personal." The difficulty for police is that they have no leads. Leigh and Curnow have no known enemies. "They are well-respected, lovely ladies," says Gough, "private people who don't flaunt it."
Local resident Heather Haynes describes them as "the most harmless couple".
"People here are really upset about it because it's an affront to the community," she says. Even the blokey blokes at the local pub dismiss the offender with two words: "a nut".
Leigh and Curnow are the kind who insist a visiting reporter stay for lunch and ply him with lemons to take home.
People are "disgusted and concerned," says Gough. "We do cringe."
Police have spoken to those previously involved in graffiti crimes but this was different. "Call it hate graffiti," he says. Police want information, including about anyone expressing strong anti-gay opinions about the incidents.
It is possible a homophobic offender simply happened upon the couple because they were prominent? They live close to the town's shops and a Blooming Bulbs shingle hung outside their property. "We have always been 'out'," says Curnow, "People called us 'the Bulb Ladies'."
They have both previously been in heterosexual marriages, and they married each other in a civil union. Between them the couple have five children and 10 grandchildren who all know that their grans are in a lesbian marriage. They'd never thought to pretend otherwise.
Sexuality is a continuum, says Leigh, from the strongly heterosexual to the homosexual and, in the middle, people like them "who just fall in love".
The hate campaign inevitably prompted reflection. "Do you advertise it?" wonders Curnow, "If you don't, are you denying it? Heterosexual couples say 'this is my wife, this is my husband'. Should we?"
It's been suggested they install cameras and build fences but that is not what a place like Mangawhai Heads is about. Many of its nearly 1000 permanent residents think nothing of popping to the beach without locking the door. But recent events have inevitably taken a toll.
Leigh and Curnow have lived here full-time for seven years, having left teaching and advertising careers to develop the gardening business and to travel. It was a kind of paradise.
"I'd always thought how neat it would be to work part of the year and to be able to travel," says Curnow. And so they did. They renamed the business, spruced up its marketing, and it and they thrived. Eight people worked in the shed during peak season, the toil lightened by gales of laughter. "We just loved our business," says Leigh. "It was such fun, such a lovely smell in the shed.
They were overwhelmed by the kindness shown them after the fire. Cards, emails and messages flowed in, some from total strangers. The gay community held fundraisers and attended working bees to clear the 40 cubic metres of rubble, replace trees and fences and put up a kitset garage and a potting shed. Straight friends chipped in, as did some they didn't know well such as the local man who mowed their lawns for weeks because he'd heard the couple's mower was in cinders.
In their time living there the couple have never had a cross word with anyone. "We still do love the area and we have certainly had some wonderful times and made some wonderful friends ..." says Leigh, whose sentence seems to tail off to an unspoken "but".
Curnow says she mostly feels sad about what has occurred. "Rational people don't think these things happen. They think everyone is cool about it, but there are still boys being bashed because they are gay."
"It does prey on your minds," she says. "You think you are handling it and then there's a bump in the night and you are shaking."
Curnow would occasionally wonder whether the fire might have been no more sinister than a dare gone wrong, a match dropped with no thought of consequences. Then came the latest hate graffiti. "It knocked the hell out of me," says Curnow, "I can't ... make any sense of it."
Stress and grief are cumulative. They have faced the usual losses of fires - photos and cards, mementoes of their children's early years, a memory stick of Curnow's ancestry files back to William the Conqueror - all sorts of personal stuff was stored in the packing shed. "Those things break our hearts," says Curnow.
Investigators filmed the crowd who gathered to watch the blaze, standard practice because firebugs tend to feel compelled to witness their work. But this was no ordinary firebug. "It's someone with an evil streak who thinks they have, shall I say, a God-given right," says Curnow. "It's like the Crusades, isn't it? And as much as we'd like to say it is not going to affect us, it really has. I found it quite paralysing."
The phone rang during the Herald's visit but no one responded to Leigh's cheery "hello". It was the fourth such call that day. Where once such things would be dismissed, they now unnerve them.
The couple say it would be unfair if Mangawhai Heads got a bad rap because of what's happened to them, the couple say. They feel as comfortable among the locals as they have anywhere, including during their "hetero period".
The community celebrated those who added to the local artistic colour and protected those who sought quietude.
"We are optimistic that the general ease with which we - as an ostensibly gay couple - have been just as accepted as any straight couple, will continue to be a hallmark of this place," says Leigh, who tried to battle the fire with the garden hose. But she admits she doesn't know how she will feel when the next school holidays come round.
She is angry about the arrogance as much as the intolerance of the intruder and suspects she'd feel a damn sight angrier but for the mellowing effect of medication. She nods in the direction of a gnarly homemade flounder spear leaning beside the door. "That would scar someone quite nicely," she laughs.
Black humour helps. When they go out they wonder what they might return to. "Come home to ashes or be ashes," quips Curnow.
Leigh: "I'm very optimistic about people," she says, "It's just this one guy." She is convinced the perpetrator is male, an older person who is not well educated, perhaps a religious fundamentalist "who arrives here in the school holidays".
The lettering in the two graffiti attacks appears to be the same and the "Q" is particularly distinctive, old fashioned, written like the number 2.
"There are periods when we feel okay about staying and other times when we are on hyper-vigilance again and not sleeping properly."
Sail Rock illuminated in dusky light, giant golden sand dunes, bracing surf and the indolent waters of the inlet; nature has blessed Mangawhai Heads.
Would it change anything if one person was found to be responsible and held to account by the courts? Curnow says she'd want to know, "why us?"
"It would give us a different perspective," says Leigh, whose family has holidayed here for decades, "because we really do love this area."
Returning to Auckland appeals more to Curnow who particularly misses city things such as theatre and cinema and, of course, the group they met through - the Gay and Lesbian Singers.
To take her mind off recent events she keeps busy with small everyday tasks like fixing the kettle plug but, for the time being, can't face the ordeal of selling and moving. It is as though her energy is another item the culprit has stolen.
It bothers Leigh that if they do leave, "he" may feel vindicated, even encouraged.
"I am not naturally a vengeful person even if I shout loudly at times of crisis," she says,
"But I do want this person found, not just to stop our own mild form of terrorism, but to make treatment and prevention possible."
Do you know something about the attacks?
Contact Mangawhai Police Station
Phone 09 423 1060 or email Graham.Gough@police.govt.nz
By Phil Taylor

Email

Phil