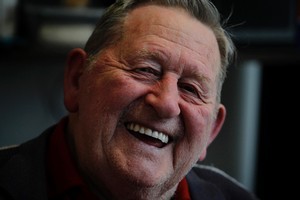 At age 89, a Kiwi war veteran is fighting a new battle - trying to convince Immigration New Zealand that his marriage to his 56-year-old Chinese bride is genuine.
Unless Bill Wickstead is able to prove that his relationship with Song Yi, whom he married in 2008, is genuine and stable, his wife will be asked to leave the country.
Her first residency application was declined on the grounds that the couple had not proven that they had been having a stable relationship over the previous 12 months.
However, that decision was overturned by the Immigration Protection Tribunal in May because Immigration NZ had not interviewed the couple.
Mr Wickstead thinks the reason the first application was declined was that he had been married to another Chinese woman, whom he divorced in 2007 when that wife refused to migrate to New Zealand.
"At my age, time is really not on my side, and I am really looking for a companion in a wife, not wild sex and romantic love," he said.
"I have fought for this country, put my life on the line to defend it, now all I am hoping is that they give me a chance to have a good final few years of my life, and not force me into a position where I will have to die alone."
Mr Wickstead is a World War II veteran who fought in the North African and Italian campaigns.
"What I needed is someone to be at home in New Zealand and to share happy moments with in my twilight years," he said. "Song Yi has been able to give me that, and I don't know what I will do if she is forced to go."
The couple had been interviewed by Immigration New Zealand officials in Hong Kong, who accepted that the marriage was genuine before they moved here. But officials here are demanding more proof.
Song Yi, who is on a work visa and employed at a downtown Chinese restaurant, says the matter has caused them a lot of stress.
"Sometimes I wonder if I did the right thing in leaving China," she told the Herald in Mandarin.
Andy Francis, veteran and membership services manager for the Auckland Returned and Services Association, said Mr Wickstead was a valued member and had the association's support in his fight to keep his wife in New Zealand.
Mr Francis said it was "unconscionable" for Immigration to imply Mr Wickstead was lying about his relationship, and had written a complaint letter to the Immigration Minister. Mr Wickstead's immigration advisor Tuariki Delamere said his client had "earned his right to end his days happily married".
"One of the reasons I am fighting so hard is because it is the right thing to do, and also because those uncles of mine who fought alongside Bill would demand that of me," Mr Delamere said.
Immigration says Mrs Wickstead's new application is still being processed.