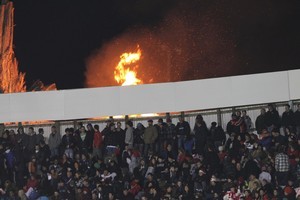 Tonga lit up the field with its first Rugby World Cup victory over Japan tonight - but the real flames came from a fire which erupted near the stadium.
The fire service was inundated with emergency calls after flames - seen by television viewers - appeared to be shooting up behind fans in one of the stands at the Northland Events Centre.
The burning scrub about 15 metres behind the stadium was of little danger to spectators.
A group of girls who saw the fire said they had seen a group who they believed started the blaze at a large tree stump surrounded by dry shrubbery.
Larissa Rogers said the people jumped out of the tree as soon as the fire started.
"It just went up in flames and people came running over.''
Her twin sister Adriana said police who were surrounding the stadium circled the fire to keep people away.
The fire service arrived and put out the flames within minutes. Police said the apparent cause of the blaze was a cigarette thrown over the rear grandstand.
The blaze had no impact on Tonga as they ran out 31-18 winners.
The Tongans are now on five points in Pool A, five behind leaders New Zealand and France but with a match against the French still to come.
It was Tonga's first win in six matches against Japan, which still hasn't added to its sole World Cup victory against Zimbabwe in 1991. The team's one victory in 23 matches and 17-match winless streak are both tournament records.