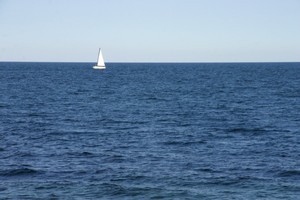 An experienced New Zealand sailor and a colleague are missing after their yacht disappeared between Bermuda and Ireland.
The Golden Eagle has not been heard from since it left Bermuda on August 21.
It was due to arrive in Crookhaven, west Cork, in South Ireland on September 15.
A 60-year-old New Zealand man, who lives in the Caribbean, and a 69-year-old Norwegian man are aboard.
The Irish Coast Guard was notified on September 17 by the Joint Rescue Coordination Centre in Stavanger, southern Norway after a friend of the Norwegian man reported the yacht overdue, Ireland Coast Guard search and rescue coordinator Shane Dillon told APNZ.
The New Zealand man was an experienced sailor who was based in St Thomas, in the Virgin Islands, Mr Dillon said.
"Apparently he has a few sailing vessels in St Thomas.''
Messages have been broadcast to ships southwest of Ireland, as well as ships in the Atlantic asking them to maintain a sharp lookout.
"The Irish navy fisheries patrol vessels ... are maintaining a sharp lookout for the Golden Eagle.
"The Irish Air Force yesterday also sent out an aircraft that does lookout ... to search over the area.''
It was not clear where the yacht was sailing to when it left Bermuda on August 21, he said.
"There was some slight confusion as to whether she was going to go to the Azores and then proceed onto Ireland, or proceed direct to Ireland.''
The yacht has not turned up in the Azores.
It had an emergency position-indicating radio beacon onboard, but it had not been activated.
The Joint Rescue Coordination Centre in Stavanger, southern Norway, would not comment. Bermudan authorities could not be reached for comment.
Bermuda is infamously known for the Bermuda Triangle _ a region in the western part of the North Atlantic Ocean where a number of aircraft and boats have apparently disappeared under mysterious circumstances.
Some of the more famous Bermuda Triangle disappearances include the USS Cyclops navy ship in March 1918 where a crew of 309 went missing without a trace, and in 1945 Flight 19, a training flight of TBM Avenger bombers, never returned after flying over the Atlantic.
- APNZ