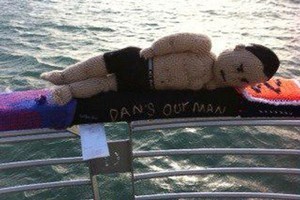 Dan Carter has been kidnapped.
Relax, All Black fans - not the real DC, but his woollen namesake.
A knitted model of "Dan the Man", wearing only his black boxers, was the star attraction of The Woolly Walk Along, an exhibition of knitted creations on show along the wooden handrail at the Devonport Wharf in Auckland.
But the Dan Carter doppelganger was taken on Friday, joining Sesame St star Elmo and an owl on the missing list from the exhibition, which has been vandalised several times.
Sarah Bird, designer of "Dan the Man", had a stern message for the thieves on her Facebook page.
"Whoever you are, you should be ashamed of yourselves."
The theft had made her daughter cry, she said.
Exhibition contributor Alison Milne said she knew she was taking a risk by displaying the art in a public place.
"It's a shame, but I know that pieces come and they go - that's just the way it is."
She thought the most likely suspects were drunk people having a laugh.
"It looks like he's been cut off. It's just very disrespectful."
Ms Milne wanted to tell the thieves that by making another model of Dan, "we don't accept that you can destroy our art".
Ms Bird is working on a replacement Dan, in a bid to sell the design and raise money for the Christchurch earthquake appeal.
"Anyone fancy knitting me a security camera to put next to him?"