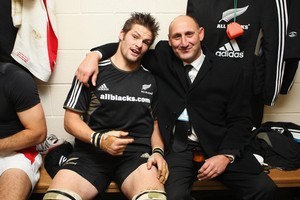 The former All Black captain pivotal to bringing the Rugby World Cup to New Zealand is battling leukaemia, but joined the crowd for one of the games in his hometown.
Jock Hobbs, a former head of the New Zealand Rugby Union, attended the South Africa v Fiji match in Wellington on Saturday.
Hobbs was central to New Zealand's bid to host the tournament in 2005, travelling to Dublin with fellow ambassadors Tana Umaga, Colin Meads and Helen Clark.
His family said he had decided to keep a low profile during the tournament, declining all interviews, to keep the focus on present members of the tournament's administration.
But he would try to get to as many matches as he could.
Hobbs led the rugby union for eight years from 2002, and became chairman of the World Cup's organising body, Rugby New Zealand 2011, soon after New Zealand won hosting rights.
But he stepped down from both roles in May last year.
He was diagnosed with a chronic form of leukaemia more than five years ago, and needed six months of chemotherapy last year.
At the time, NZRU chief executive Steve Tew said the door would remain open for him to return to the organisation before the World Cup.
But he has instead chosen to stay under the radar, and on Saturday he appeared weakened from his fight with the disease.
"I can't think of a person in the modern era who's done more for the game than Jock has," Mr Tew said last year.
Hobbs has been credited as the key figure in bringing the World Cup tournament to New Zealand.
About the same time that he stood down from the NZRU and RNZ 2011, the finance company he was running collapsed.
Hobbs was the chief executive and a director of Strategic Finance - which owed $452 million to 13,000 mainly elderly investors at the time of its fall.
It was New Zealand's second-biggest finance company collapse, after Bridgecorp.
Investors last year got back two cents for every dollar they had invested after receivers took over the company, and an updated forecast from May puts the likely return between 12 per cent and 26 per cent.
The All Black flanker played 21 tests between 1983 and 1986, four as captain, before he had to retire prematurely from the game after complications from concussions.