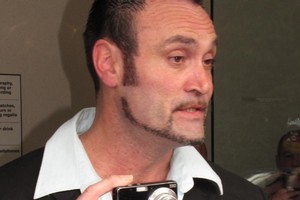 A bouncer at the centre of an England Rugby World Cup scandal involving captain Mike Tindall has been remanded without plea, after appearing in the Queenstown District Court this morning.
Security guard Jonathan Dixon was charged with accessing a computer system for dishonest purposes.
Mr Dixon who is accused of stealing and uploading to YouTube a security video showing Tindall enjoying a night out with a mystery blonde, says he wants the rugby player to give evidence at his trial.
Scandal has swirled around the rugby player since the CCTV footage was made public showing him cavorting with the woman at the Altitude bar in Queenstown eight days ago.
Tindall married the Queen's granddaughter Zara Phillips less than two months ago in Edinburgh.
Mr Dixon released the footage on Friday. He had obtained it from the bar's computer banks the day after the incident.
The video has now been taken off YouTube and Dixon has been fired.
At the weekend, Dixon told Britain's Mail on Sunday newspaper he put the footage on the internet because he was outraged by Tindall's "sleazy" behaviour.
"If my case goes to trial, I want Mike Tindall to appear in the witness box and explain his actions that night," he said.
"Anyone who does this kind of thing when they've made wedding vows in front of God should be ashamed of themselves."
The British media have reported Buckingham Palace officials as saying the woman was a mutual friend of Tindall and Ms Phillips and attended their wedding.
However, witnesses said Tindall and the blonde became increasingly intimate as the night wore on.
"There was no doubt what he was after," one told the Mail. "At one stage he put his hand down the back of her jeans. Then he put his hand up her top at the back, as if he was trying to undo her bra strap."
Ms Phillips' spokesman has confirmed she will still travel to New Zealand to see her husband midway through the Rugby World Cup.
- APNZ