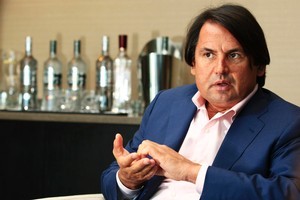 Foreign rugby fans are looking to snap up their dream Kiwi homes.
There has been a "really good level of interest" from visitors inquiring about residential properties, particularly those along the Auckland waterfront, said Bayleys salesperson of the year Gary Wallace.
Even Russian billionaire Roustam Tariko, the man who flew into the country this week with Miss Russia Natalia Gantimurovato, wanted to buy a property - though not quite yet.
The head of Russian Standard Vodka said he had fallen in love with the South Island, and likened New Zealand to a giant golf course.
"It would be nice [to live here] but I have to be realistic about how often I could come.
"Scenery of the south is spectacular, all the fiords, mountains. Maybe when I become a little older," said Tariko.
Lifestyle and location were big drawcards for foreign buyers, said Wallace.
"They're trying to get a feel for what their money will buy and any restrictions about buying property in New Zealand," he said.
This week, an English couple here for the tournament fell in love with a three-bedroom Remuera apartment valued at almost $1.1 million.
"They wanted to know if they bought it now could they have it for the period of the World Cup. I expect an offer from them," said Wallace.
However, an issue could be a continued dearth of listings. Even the traditional upsurge in spring listings appeared to be limited and the Cup could be one reason for the slow start, said QV senior valuer Glenda Whitehead.
Rugby was likely to be a "temporary distraction", she said.
However, sales listed on Trade Me for the first two weeks of September showed a 17 per cent increase over the same period last year.