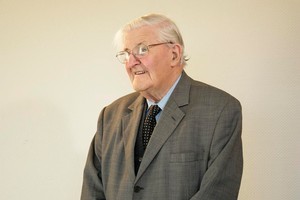 The frail wife of failed financier Allan Hubbard left her hospital bed to lay her late husband to rest today.
Jean Hubbard was pushed in a wheelchair by family members at the private funeral in Timaru.
About 80 close friends and family members attended the service at Trinity Presbyterian Church in his South Canterbury hometown.
Hubbard, 83, died and his wife Jean, 82, was hurt when their car and a ute collided near Oamaru last month.
Reverend Dr Susan Jones led the 55-minute service, which paid tribute to a "generous family man".
A lone trumpeter played The Last Post as Hubbard's simple wooden coffin was carried by six pallbearers and lifted inside the waiting hearse.
Weeping mourners lent comfort to Mrs Hubbard as the car drove away. It is not known whether the body was cremated or buried.
A private afternoon tea was held in the church after the service.
Rev Jones said it was a "very dignified service" with the eulogy given by Rev Dr Peter Gardner from Hubbard's congregation at nearby St Paul's Church.
She said: "It was a very powerful, very dignified service in front of a tight-knit group of around 80 family members and friends.
"There were personal stories and several references to his scouting connections.
"We sang well-known church hymns, which Allan would have recognised, as well as a Scouts hymn. It was very nice."
One elderly mourner leaving the service described the service as "a good family gathering".
He said: "It was a lovely tribute to Allan, saying what a great man he was, and a real generous, family man."
Another mourner added: "It was a lovely service and nothing more than Allan deserved."
A public memorial service will be held on October 8 at the SBS Events Centre in Timaru.
Hubbard's business, South Canterbury Finance, went into receivership on August 31 last year.
It triggered a record bailout under the Government's deposit guarantee scheme, giving $1.7 billion of taxpayers' money to 35,000 investors.
Mr Hubbard faced fraud charges. They were dropped following his death.
A decision has yet to be made on whether Mrs Hubbard will be released from statutory management.
- APNZ