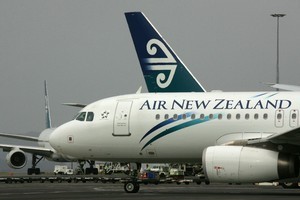 A Havelock North public relations expert who claimed he had a bomb in his bag at Auckland International Airport has escaped conviction.
While checking in luggage at the airport's domestic terminal about 8.50am on August 10, Shaun Lines, 47, told an airport staff member he had to "shuffle the bags around to make sure the explosives are under 23kgs".
His "stupid" comment sparked a security alert and resulted in him being searched by aviation security staff and an explosives dog.
No explosives were found.
The director and owner of Havelock North marketing and PR company Grow appeared in Hastings District Court yesterday and pleaded guilty to one charge of communicating false information affecting the safety of an aerodrome.
The breach of the Civil Aviation Act carries a maximum penalty of 12 months in prison.
His lawyer, Richard Stone, said his client accepted it was a "stupid" quip, yet it didn't amount to any "overt criminality". He pushed for a discharge without conviction and said Lines was tired after a flight back from Europe.
"He missed his flight and spent half a day with police and then had to catch a bus back to Hawke's Bay," Mr Stone said.
Judge Geoff Rea said a conviction would be "totally over the top".
"Mr Lines, I suppose the most valuable thing you can take from this is that there are certain parts of our lives these days where there is no sense of humour," the judge said.
"I don't think your stupidity warrants a conviction."
He was discharged without conviction and ordered to pay prosecution fees of $250.
Lines, who earlier admitted the statement was "inappropriate", told Hawke's Bay Today the judge made a "good decision".
"I am thankful that he has a sense of humour," Lines said.

- APNZ