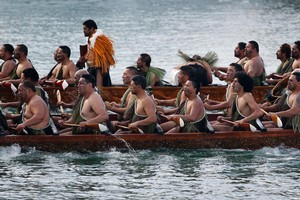 Nine teenage waka paddlers were injured trying to navigate their way through the jostling Rugby World Cup crowd at Auckland's waterfront after becoming separated from the main group.
Six of the girls, all aged between 16 and 18, had to be taken to hospital including one with broken ribs, after their group took a wrong turn and ended up amid the crowd.
Paddler Niki Tauhara, who was with the group, said the girls were assaulted by "aggressive" people in the crowd after security guards told them to go the wrong way.
He said the girls were punched, kicked and had bottles thrown at them.
"They are pretty devastated," Mr Tauhara said, describing what happened to them as a "cowardly act".
People in the crowd told a different story of how the waka crews were navigating the crowd.
"A man with the waka crew was very aggressive to the people around. Everyone was getting crushed and he blamed the crowd, who were getting pushed forward," said one woman.
"What clearly didn't help was the oars they were holding lengthways, rather than into the air. People were getting crushed against them."
Another man said he was in an area where "nobody could move an inch".
"The waka crew came barging through right next to me using their sticks/ores [sic], etc as shields, pushing everyone out of the way. It was really quite scary, and I'm a strong young guy." World Cup waka co-ordinator Joe Conrad said while it was disappointing people got hurt, he was not convinced any crew members had been assaulted. "I'm not denying people were hurt in the crowd. With 250,000 people down in the area somebody was going to get hurt.
Mr Conrad said the paddlers were supposed to follow a planned route to their hotel after they had finished performing on Quay St. But Mr Tauhara's group became separated.
"The route was planned ... we turned right, and they went straight into the crowd. Security saw the tail of the kaihoe disappear into the crowd and thought that was the end of the waka group.
"But there were still a hundred-odd bodies to come through ...
"Someone made the wrong decision. People got hurt and that's very unfortunate."
Mr Conrad added: "We are very fortunate that's all that happened with that many people. Everyone got hit, pushed and squashed."