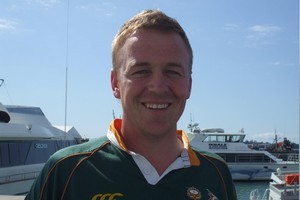 Tourists have arrived in droves for the World Cup. What do they think of New Zealand?
South African Gavin Bennett says he is here to help the Springboks take the Webb Ellis Cup home.
"I came to help carry the trophy back," Bennett, of Pretoria, said while at the Auckland waterfront.
Bennett, aged 28, will tour the country in a campervan and stop for games in Auckland, Wellington, Rotorua and Hamilton.
Dressed in a Springbok jersey, the unemployed traveller says he will not just go to South Africa games.
"I'm going to the opening game, then travelling to Wellington for the Wales game and a bit of sightseeing."
He plans to go skiing on Mt Ruapehu, head out on a jet boat, ride the Rotorua luge and, perhaps unsurprisingly, "drink lots of beer".
When asked for his first impressions of New Zealand, he said: "First world, compared to the third world at home ... As I got into the plane, I could just feel how friendly New Zealand was."