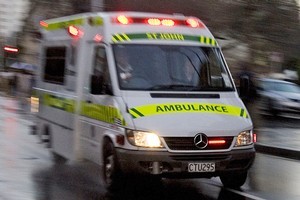 A woman drowned at the mouth of a West Coast river this morning. It is understood she was whitebaiting at the time.
St John ambulance was called to the scene at the mouth of Waimangaroa River, northeast of Westport, about 8.10am, spokesman Ian Henderson said.
The woman was already dead when the ambulance arrived.
It is the second death of a whitebaiter on the West Coast in two days.
Diana Perriton had been whitebaiting with her partner on Thursday when she fell from her bicycle in Westport.
The 50-year-old local woman cycled a short distance from the wharf where she had been whitebaiting, before veering over a ledge and falling about 1.5 metres onto the roadway.
She suffered serious head injuries and was taken to Westport Hospital before being airlifted to Christchurch but she died en route.
Tasman District Road Policing Manager Inspector Jenni Richardson said Ms Perriton was wearing the polystyrene shell of a cycle helmet but the helmet was missing its outer casing.
"In that condition it was unable to give Ms Perriton the protection she needed."
Inspector Richardson said police were still investigating but believed alcohol may have been a factor.
West Coast Whitebaiters Association president Des McEnaney said whitebait accidents occurred "all too regularly as far as I'm concerned".
Whitebaiters had various levels of skill before taking to the water, he said.
"We have people from various parts of the country come and try their hand at whitebaiting, they may not be all that experienced, or they seem to get too excited, particularly if they are fishing in the river mouths."
West Coast rivers could be very dangerous, he said.
"People are wading out into the surges [at the river mouth] to get first in line to catch the fish, and it is quite dangerous, and this is where we have lost a lot of people over the years."
About 90 per cent of problems occurred at the mouth of a river, Mr McEnaney said.
"It is a very dangerous activity of you get out into the surf."
The whitebait season started on September 1 on the West Coast and in mid-August for the rest of the country.
- APNZ