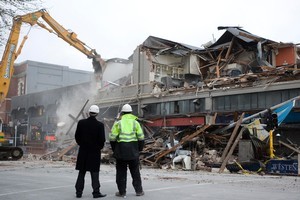 The Earthquake Commission's wage bill since the first Canterbury earthquake a year ago is $138 million, chief executive Ian Simpson said this morning as he defended pay levels for his staff.
Mr Simpson said he was releasing the figures because of recent public interest in in the way it recruits and remunerates its staff.
"The scale of the Canterbury earthquakes clearly justifies the numbers of staff employed and the amounts they are paid."
"We went from a core staff of 22 before the 4 September quake to a total staff of well over a thousand in February. Many of these people are living and working in Canterbury.
"Our aim has, from the beginning, been to give our claimants certainty around their situation as soon as possible. We needed to grow the team as quickly as possible to achieve this.
The figures show that a total of $137,985,883 has been paid out in wages to all EQC staff between September 1, 2010 and June 30, 2011.
The figures represent a range of rates from $17 per hour to $120 per hour for senior staff with responsibility for large teams.
Mr Simpson said salaries were put in place for the September earthquake with the expectation that people would be employed for six months.
"The February earthquake changed the landscape completely for EQC meaning a few people continued to be employed for a much longer period."
He said that if the commission could not retain qualified, experienced assessors, it had to train new people, which was costly and time-consuming.
On 1 September 2010, EQC had 22 core staff and 27 assessors in reserve. Staff numbers increased to 1064 in February and by July 11 the staff numbers sat at 1275.
On average, the commission's assessors received $75 an hour and estimators were paid $60 an hour.
Assessors worked 10 hour days, six days a week on a three weeks on - one week off basis.
They were only paid for the time they were working, not for the one week in four they were not working.
Mr Simpson said they had no job security and as private contractors, assessors had to take care of their own tax and ACC commitments. They received no holiday pay or other entitlements that salaried staff received.
"Given the extent of the challenge we faced in the last year I feel the number of staff we have employed and the amount we have paid them is fully justified," Mr Simpson said.