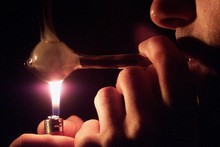 Three rugby and league players charged with attempting to import several hundred kilograms of methamphetamine into New Zealand appeared before court again today.
Angus Naupoto, 34, appeared for allegedly trying to smuggle P into New Zealand on a boat skipped by a man known only as Johan.
The skipper is no longer around and hasn't faced any charges, the court heard today.
Mr Naupoto is one of five men charged with attempting to import methamphetamine into New Zealand from Tonga.
William Wolfgramm, Peter Lawrence Tanginoa and Mr Naupoto face charges of conspiracy to import the A-class drug and participating in an organised criminal group.
They were arrested in August.
The trio were allegedly in talks with a Tongan drug syndicate to import millions of dollars worth of P into New Zealand through a skippered boat.
Police discovered there was no methamphetamine, and believe the whole scheme was an elaborate hoax conspired by a Tongan group to con the three men out of a small fortune.
The alleged drug syndicate reportedly built a fake stockpile of methamphetamine out of blocks and rock salt, and offered a thin layer of purchased drugs lying on top of the pile as a sample.
Mr Naupoto also faces a charge of conspiracy to kidnap, as he allegedly threatened a Tongan woman to carry out certain requests or face death.
He was granted bail on strict conditions today, including a 24 hour curfew to a residential address, no access to sea or river-sides and reporting to a local police station every weekday.
Mr Wolfgramm and Mr Tanginoa, both Auckland-based and already on bail, had their bail term extended.
All three men have been involved as players or managers in premier league or club rugby.
Police arrested two more men in relation to the allegations in late August. David Charles Mafi and Douglas David Afeaki were charged with conspiracy to import the drug in late August.
Mr Naupoto, Mr Tanginoa and Mr Wolfgramm are due to appear in court again in November.